Ryebeck installs new handmade copper spirit still in Denmark
Brinksgaard is a lifestyle shop, 12km from the North Sea and even closer to the German border.  Attached is a small café from which Hans Sjursen and his wife sell around 55 different gins and 45 rums.  They had also bought an old fire truck to use for corporate and private events, kitting it out with draught beer dispensers.  This led Hans to consider making alcohol himself and so Marsk Distillery was born.
The idea for a distillery is born
Hans began experimenting with distillation about 18 months ago, using a small 10L copper still.  Pleased with the results, he decided to move things forward and make spirits commercially.  So last October/November, he contacted Ryebeck.
Contacting Ryebeck for a spirit still
Hans was very impressed by the speed at which Ryebeck responded and the service he received. "I contacted Tim [Tim Prime, Managing Director] and he called me back quickly.  We had a very good talk."
Having spoken to several companies, he preferred Ryebeck's personal approach, quick responses and helpful attitude.  Rather than assuming that, with little experience of distilling, he would buy any equipment, they took the time to understand his situation.  They were then able to recommend the type of still that suited him and to provide extra support.
Choosing a spirit still
In January this year, Ryebeck took Hans to see a 250L copper spirit still they had installed in Slovenia.  He was so impressed by what he saw, that he decided to buy the same model.  Ryebeck delivered it around Easter and Hans has named it Berta.  The size fits easily within the building and complies fully with Danish legal requirements for a small distillery.
Hans is particularly full of praise for how good the still looks in his relatively small setting.  "We have to do something that's different and with charm, given that we're not a big distillery.  It looks handmade and when people come here, they say it looks like art!  Also the copper ensures that our distillate has a smooth taste."
Ryebeck to provide extra support
The Ryebeck team agreed that he needed some help to get started and arranged for master distiller Craig Law to provide that service.  Unfortunately, due to COVID, he has so far been unable to spend a week at the distillery.  "Now we're learning by doing and waiting for him", says Hans.
Local inspirations
Hans creates the base spirit himself from imported sugar.  He then uses this to make seven types of gin and two rums, including a sweet rum.  All bottling is done on-site.
For one of his gins, Hans uses a local ingredient, dunhammer or cattail, which grows by a nearby lake.  This creates a unique taste profile.  "There are thousands of gins in the world, but nobody has tried this before", he explains with passion.  "It tastes mainly like cucumber, but the aftertaste is a bit like wild asparagus.  So it's good with the local seafood."
He also uses chamomile, which grows locally and is currently planning to plant juniper bushes.
Additionally, he has just made a Christmas gin with apple juice, to be drunk hot.  After great feedback, he'll be making more!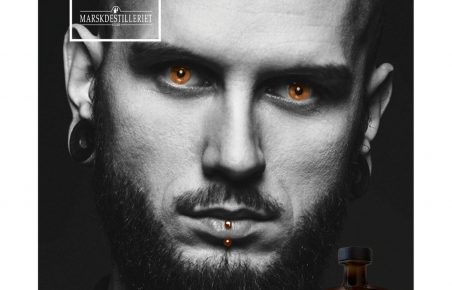 Sales
Hans sells his spirits from the Brinksgaard shop and also in local lifestyle and independent wine stores.  Being so new, he's not yet running at full capacity, but his reputation is growing.  In September and October, he sold around 1000 bottles of gin and is already looking for other stockists around Europe.  "We're a very small distillery.  We don't make a lot, but our taste is unique!"
Future plans
Denmark has a vibrant drinks scene with beer particularly big.  "Many people don't drink gin, as 20 years ago, they only had the cheap ones.  They drank too much and it tasted of pine!  There's a door open for gin now, as people find out that the new gins taste great."
Hans has plans to make more products in future, but is not going to rush in too early.  "At the moment, I'm learning to crawl.  Then I'll learn to walk.  When I can walk, perhaps I'll look at making whisky or something else.  For now, I'll specialise in rum and gin."
The Ryebeck experience
As well as making spirits, he now has three vehicles to use for corporate events, supplying beer, rum and gin.  None of this would have been possible without his passion, energy and vision, but also the equipment sourced from Ryebeck.  He particularly values their continuing relationship and can recommend them to anyone in a similar situation. "I get help from them via WhatsApp and emails.  If I have a problem, I can call them too.  They are very professional.  You can trust them and they deliver what they say they will.  It's been a very good relationship."
Author: Robin Goldsmith of The Write Taste.