Using your loaf for the environment!
Toast Ale sustainably brews award-winning beer.  They use fresh surplus bread from bakeries and the unused heel end of loaves from the sandwich industry.  They donate profits on core beers to the charity Feedback which campaigns for a more sustainable food system.  The business was created in late 2015 by Tristram Stuart, an expert on the social and environmental impacts of food production and founder of Feedback.  So far, the company has given nearly £25,000 to charity.
Flour Power
Chloe Brooks, production manager
Stroud Brewery, comments: "Stroud
Brewery is dedicated to producing
great organic beers with production
helping to support local farmers and
the ecosystems they manage.  The
organic standards we adhere to
support our ambition to be a business
that cares for people and planet.

Flour Power was a great project
providing us with the opportunity to
collaborate with like-minded
businesses to produce a product that
not only tastes good but does good."
On 2nd May, a launch party was held at Sustainable Bankside to demonstrate and celebrate the potential for sustainable brewing.  Friends of the Earth, Stroud Brewery and Toast Ale joined forces on a new beer that showcases how modern brewing can do its bit to provide solutions for a greener future.  Flour Power is a modern, heavily hopped amber ale, made with Citra & Azacca hops that give an intense citrusy aroma.  It's well-balanced with a fruity finish.
Using waste bread
Flour Power is brewed in Stroud's organic brewery and uses unsold organic bread from Hobbs House Bakery which would otherwise have gone to waste.  Five percent of the proceeds from the beer's sales are donated to Friends of the Earth's climate campaign, which will then be distributed to the charity's 'most urgent needs'.  For other one-off collaboration beers, the company generally partners with local bakers, brewers and charities, in order to raise engagement about food waste at a more local level.
Greg Pilley, MD of Stroud Brewery, talking on the collaboration with Toast Ale.
Collaborations
Mike Birkin, campaigner at Friends of the
Earth, says: "With Flour Power we're
aiming for a craft ale that proves that
the things we enjoy can be produced in
more considerate, sustainable ways.  We
hope to see more businesses, including
further breweries, respond to the climate
emergency.  At Friends of the Earth we're
always keeping an eye out for those
businesses showing a better way of doing
things, so collaborating with Stroud
Brewery and Toast Ale is hugely exciting."
With their core beers in the UK, Toast Ale contract brews with Wold Top in Yorkshire, who sends spent grain at the end of the process to a local farm.  Toast also works with other breweries in the US, Brazil, Iceland, Ireland and South Africa, using locally sourced surplus bread to benefit local charities.  They've even published a bread beer recipe for home brewers, which has been accessed online around 50,000 times!
Environmental impact of food production and waste
Food production has a huge impact on the environment.  Feedback's research shows that it's responsible for 80% of deforestation, 70% of fresh water use and 30% greenhouse gases.  It's also the biggest contributor to biodiversity loss and soil erosion.  However, one-third of all food produced is wasted.  This equates to 1.3 billion tonnes globally, according to the 2013 findings of the Food and Agriculture Organization of the United Nations.  Of concern closer to home, a 2014 UK Parliament report concluded that 15 million tonnes of food are wasted in the UK annually.  This is a financial loss to business of at least £5 billion per year.  "If food waste were a country", explains James King, Brand and Marketing Manager of Toast Ale, "it would be the third largest emitter of CO2 behind China and the USA!"
Bread waste significant problem in the UK
In the UK, bread is the worst offender with 44% never consumed.  That's 900,000 tonnes a year, equivalent to around 24 million slices a day!  Therefore, it makes environmental, ethical and pragmatic sense to use this resource, which is exactly what Toast does and there is a demand.  James King explains further: "People are looking to make positive choices in all areas of their life, but often don't have the products available to be able to express this.  So by providing them with a beer like Flour Power that can make a positive change to the planet, we're giving them an easy option to express their everyday activism."
History of bread use in beer
The concept of using surplus bread to make beer is not new, as the earliest beer recipes did just this!  Enzymes convert carbohydrates in the baked grains to simple sugars.  These then ferment over time with yeast to produce alcohol.  Toast Ale is, therefore, reviving an old tradition to solve one aspect of modern-day food waste.  They have already seen their inspiration gaining traction.  For instance, two UK supermarkets, M&S and Iceland, launched bread beers in 2018 to upcycle surplus bread in their supply chains.  There are now over 40 breweries globally who have or who are currently brewing with bread, a true Rev-ALE-ution championed by Toast Ale.
There's the equivalent of a slice of surplus bread in every bottle of beer.  This year, Toast Ale celebrates brewing with their one-millionth slice of surplus bread that would otherwise have been wasted.  That's the equivalent of a loaf 1½ times the height of Mount Everest!
Benefits of bread use in beer
James King says: "Sustainable brewing can
be whatever each brewery interprets it as. 
Positive change is positive change – that's
the message we champion.  Food waste is a
systemic issue but we can't do it on our own,
so we want to work with other breweries. 
We're here to fight food waste and that's
what sustainable brewing means to us."
The effects of producing beer in this manner are far-reaching.  Supplementing barley with bread in the brewing process offsets one third of the grain bill.  As a result, this frees up the land and water  used to grow barley, which can therefore be utilised for different crops or left alone.  Furthermore, growing, malting and transporting barley requires chemicals and fuel for energy, which release greenhouse gases.  Additionally, bread left to rot in landfill emits methane.  So avoiding growing barley for beer has a significant impact on reducing CO2 emissions.
B-Corp accreditation
Toast Ale is the first UK beer company to hold B-Corp accreditation.  Therefore, they join a global movement putting sustainability at the heart of business.  According to James, this means a commitment to "continually improve our impact on the world from people to planet.  Whether that means tackling challenges with packaging, the supply chain or encouraging responsible drinking, there are so many ways that sustainable brewing can manifest."  Another initiative that Toast is involved with is 'Equity for Good'.  This is a social investment model devised by the company that reinvests a proportion of investors' net capital gains in good causes and social enterprise.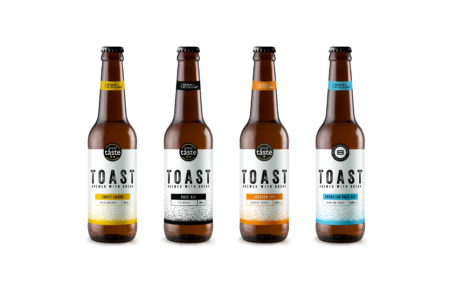 Where to buy Toast Ale
Toast Ale's core range includes Purebread Pale Ale, Much Kneaded Craft Lager, Bloomin' Lovely IPA plus Born and Bread APA.  Flour Power is available from Abel & Cole.  Other Toast Ales are stocked by Co-Op, Tesco, Waitrose and various independent shops, restaurants and bars.
Images provided by Friends of the Earth and Toast Ale.
Author: Robin Goldsmith of The Write Taste